Coachella Festival Guide 2013 - A British Invasion
Coachella festival is very nearly upon us and seeing as this years

tickets sold out within ONE day (the first weekend within 15 minutes) I'm sure this means a fair few of you will be making your way to the valley in the coming days for a heap load of music and a heap load of fun. Declaring my jealousy doesn't even cut it for how I feel this week, which is why I've put together a Coachella guide in order to feel I am some way involved in the festival process and attempt to live vicariously through all you lucky folk who are attending.
For those native Angelenos who are heading out into the desert with the utterly absurd idea that for a brief weekend they will be escaping the influx of British accents on their fair city...Well, they can think again! The Coachella valley is set for another British invasion and we refuse to approach lightly, for this is a year of epic reunions and impressive breakthroughs.
Leading the charge this year are The Stone Roses, Blur, New Order, Hot Chip & The XX to name just a few of the acts who have deservedly elbowed their way into the top slots. However, festival go-ers can prepare for another type of British invasion for some of our newer exports are set to proudly fly the flag and have been doing a bloody good job of it of late. Here's a guide to the British bands you simply cannot miss at this years festival.
The Stone Roses & Blur
Obviously.
It's Blur's first US show since their reunion and Stone Roses, who released a new album last year, are fresh from a 15 year hiatus. It's going to be an epic Friday night of some of our finest, of course you'll be there.
Johnny Marr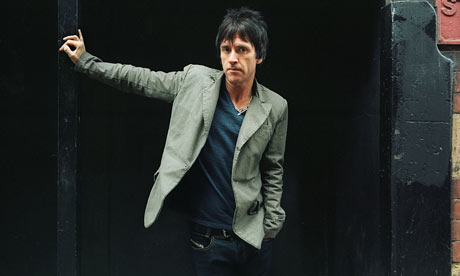 Again, obviously. Half the writing genius of The Smiths, who apparently doesn't skimp on Smiths classics during his solo shows and will probably collaborate with Modest Mouse at some point during the
weekend.
Jake Bugg
Jake Bugg is how I imagine every young musician from Nottingham to look like but he probably sounds a hundred times better than all of them. Signed at 17 to Mercury Records, he has already been dubbed a contemporary Bob Dylan but I'm sure you already knew that because absolutely
no one
will shut up about him. While comparing him to Bob Dylan is a grandiose statement, it proves his hype, his mainstream appeal, and the sheer catchiness of his songs. He's definitely worth checking out on Friday, 3pm on the Mojave Stage if you like a good merge of folk and contemporary rock riffs. Unfortunately he isn't playing any dates in LA this year (as of yet) so this will probably be your only chance to catch him!
Here is his video for Lightning Bolt
Ben Howard
Ben Howard won Best Breakthrough Artist and Best Solo Male Artist at this years Brit Awards and is playing on Saturday 4pm at the Outdoor Theatre. This is the guy my fellow British folk need to see if you want to prove to your friends that you haven't lost touch with your roots. So when they accuse you of being 'sooo LA' because you keep talking about how you hung out with Lindsey Lohan at the Marmont, you can pull out the above fact. His music is also very nice, often cast in the indie folk genre and good for a chill out before New Order & Hot Chip.
Here is a video for Esmerelda
James Blake
James Blake covered Feists Limit to your Love in 2011 and everyone fell head over heels in love with him. Then, it all went quiet as things often do after a hype like that and the love went dormant. However, this year he announced his new album and released the single Retrograde and like lovesick puppies we all came crawling back and more in love then ever. He's playing at 6pm on Sunday on the Mojave Stage, you'll probably be so hungover that you'll fall in love too.
Here is the video for Retrograde, tell me you wouldn't want to hear that voice
live.
Alex Clare
I'm sure you've heard Alex Clare's Too Close because it practically went viral in 2011. Everyone thinks they don't know this song until they hear it and then realize it's that song they can never get out of their head. His music is more of a dancier vibe then most of the British bands playing this year who are re-championing rock and roll. His music is a mix of dub-step & drum and bass with soulful, R n B vocals (and he used to be a chef which is a good talking point should you meet him). Really good for a dance to see the weekend out on Sunday 4:50pm on the Mojave Stage.
Here is his video for Too Close
Palma Violets
Palma Violets sound like they could be from California but are in fact a British Psych-rock group from South London who are already on their way to greatness in the UK. Like the Arctic Monkeys, they gained a huge online fan base before their single was released and they put on one hell of a live show, makes you want to jump around and let loose your inner teenager. They are also playing live at The Echoplex on the 17th April and the link for tickets is on the gigging page.
Here is a video for Best of Friends which was voted NME's Song of the Year.
Savages
Savages are an all girl post punk band and even if you're not into this kind of music, they are worth a watch because it's always fascinating watching girls rocking out and the lead singer looks like a mix between Ian Curtis and Sinead O'Conner which is also quite fascinating. This will be their first trip across the pond so make sure to welcome them!
Here is a video of them performing their song City's Full in London. They are playing a show at the Echoplex tonight, so if you can't make it to the desert, get over to Echo Park to see them!
Jessie Ware
It seems the Americans already love Jessie Ware. She's a soul singer who is doing a really good job at rivalling Adele (the worlds sweetheart) but not in a 'oh just another loud voice playing vocal gymnastics' kind of way. She mixes flawless soul with electronic sounds and is a joy to watch on stage, especially her in between songs chat. Plus, she'll make a nice change from all the indie/punk/rock bands that are owning the majority of the British side of things this year. Go see her on Sunday!
Here is a video for Wildest Moments
Bat for Lashes
Bat for Lashes marvel Natasha Khan can do everything. She's a multi instrumentalist, sings, dances, writes great songs and puts on an even better show. Her live performances are mesmerizing and she will force you to dance along with her as she works her way through three albums of materials. It is truly enthralling and with an amalgamation of haunting and joyous songs and visuals that perfectly compliment the music, it will have you leaving the show asking 'what happened?'. She plays at 5pm, Saturday, Mojave Stage.
Here is her video for Daniel
Beardyman
Beardyman is one of the most enjoyable people to watch live. He's a beatboxer and uses looping technology in his live performances to layer his beats, a one man band of sorts . He was named 'King of Sound and Ruler of Beats' by the BBC which is pretty much the coolest title to ever hold. He has quite the cult following and I'm so glad he's going to be in the desert this year so more people than the UK and the internet nerds can enjoy him. Look out for where he will be playing, I cannot recommend this one highly enough! Here is a video for you to get the gist of the King.
Other British bands gracing Coachella this year: Alt-J, Disclosure, Foals, Franz Ferdinand, Hot Chip, James Mccartney, The XX, Jessie Ware, La Roux, New Order, Paul Oakenfold, The Wombats, Two Door Cinema Club
Have a great time!
Sophie Ioannou