Meet a Member: Evelyn Cantacuzène-Spéransky
Meet Evelyn Cantacuzène-Spéransky from Calvin (Geneva, Switzerland) who moved to Los Angeles earlier this year.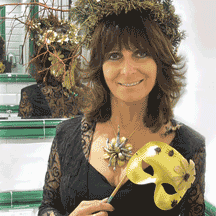 What made you decide to move to LA?
After chilly Geneva I am happy to be in a warmer climate. And I am able to continue my work as an independent curator and events organizer.
What was your first impression of Los Angeles?
I loved the positive attitude and energy that one finds here. It is very stimulating to be surrounded for the most part with people in the creative industries. When in London, I was "mother to 3,000 drunken artists" and chief bottle washer at the Chelsea Arts Club, a private members' club for artists' and it is great to be back amongst likeminded individuals in this little liberal bubble.
What do you miss most from home?
What I do miss about Geneva is the beauty of the lake, the ferry that takes you from one side to another and in London the green parks, the latter I have now swopped for the desert landscape of Runyon Canyon. It has always puzzled me that Los Angelenos refer to going on a hike as opposed to a walk!
Do you have a hidden gem you'd like to share with us?
My hidden gem is the Museum of Jurassic Technology (www.mjt.org), where the real meets the imaginary, in a cabinet of curiosities housed in a labyrinth of rooms in a neo-gothic mansion. Tea and biscuits are also part of the entrance ticket. The best "happy hour" in town is at the Hammer Museum Courtyard Café. The museum also has an amazing free lecture/music/film series, as well as being a platform for cutting edge art. Being a foodie and coming from London, the food capital of Europe, one is spoilt for choice in LA; from the yummy food at Gelina's (Venice), to vegan Mexican at Gracias Madre (Larchmont), vegan Japanese at Shojin (Koreatown and Culver City) and for the carnivores, Gjusta Deli in Venice. My vice is ice cream, I love the goat's cheese and fig at Salt and Straw (Venice) or the non-diary ice cream at Kippy's (Santa Monica). I love the New York feel of Downtown and the Notting Hill ambience of Abbot Kinney.
Lots of our members join our group Brits in LA seeking out words of wisdom – what is the best piece of advice you've been given?
That one can exist in LA and not drive. I live in Santa Monica, which has pavements that people actually walk along and window shop. There is a wonderful Farmers Market every Saturday and Sunday with live music. I have discovered the Big Blue Bus and the Metro, which goes Down Town into the heart of the Arts District. I am always touched by the kindness of the bus drivers, especially when they help the disabled on and off the buses. Riding public transport is a much needed reality check in the City of Fantasies.
Lastly, how can we find out more about you? Are you working on anything at the moment?
I have just curated an exhibition of the photographs of British photographer Carinthia West, who recorded iconic moments and people of the 70s www.kmfinearts.com. In the pipe line, in October is the screening and ensuing Round Table at Santa Monica College of Revolution: A New Art for a New World, on the centenary of the Russian Revolution, by the British film maker Mary Kinmoth. And I am also curating a mini-festival of shorts around the theme of Migrations: New Geographies for the end of the year. I can be contacted on ehcs333@gmail.com, sorry no time yet to put a web page together.