Brits in LA Newsletter
Greetings Britlings!
This past week I was in New York City editing my film @asst_ so being locked up in a darkened edit bay for 12 hours each day didn't give me much room for inspiration. However I did get a chance to get out and see a couple of Broadway shows. The first was an amazing new musical called "Dear Evan Hansen" – a story of how even the smallest of lies can have the hugest impact.
It's a wonderful show that I highly recommend and not just for the main actor Ben Platt, whose physicality and emotional journey will have you mesmerized from start to finish. I smell Tony in his future for sure. The other play I saw was the classic revival of "Sunset Boulevard" with the marvelous Glenn Close as Norma Desmond. I had never actually seen any of the previous productions. Patty Lupone originated the role in London in the summer of 1993 while Glenn got the nod for the first Stateside production, at the Schubert Theatre in Century City just a few months later, before the production moved to Broadway where Close won a Tony for her performance.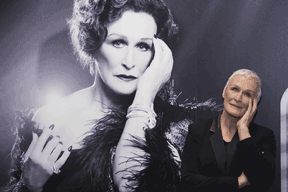 The evening was like a throwback to Broadway's golden age; the audience erupted when Close first appeared on stage, and when it was all over she even took FOUR curtain calls in perfect diva style. She totally embodied the role. It's a terrific play and I loved that they have the orchestra on the stage the whole time too. Definitely worth seeing if you are in NY.
After a couple of days back in the City of Angels I'm suffering from some devilish flu! So as to not infect my loved ones with the lurgy I have reverted to walking around with a mask in the style of Michael Jackson….or a Japanese tourist. I am a conscientious sicky. I might look silly, but at least I'm cautious. I also went to the doc and got a course of antibiotics and cough syrup, I'm taking plenty of vitamin C, fluids and rest.
But I did manage to go to the opening of 946: The Amazing story of Adolpho Tips at The Wallis Annenberg Center of Performing Arts in Beverly Hills, from the British Knee High Company, who brought us Brief Encounter a few years ago. The Show runs till March 5th 2017
Not to get all political, but it seems like Saturday Night Live are having a whale of a time being satirical, Trump and his band of merry men are providing oodles of source material for them – Melissa McCarthy's portrayal of Sean Spicer was spot on last weekend and it seems Rosie O'Donnell is working on her impression of Steve Bannon. Can't wait to see that one. Because let's face it, in times like this we all could do with a good laugh.
Poster photography by Walter Tabayoyong.
Which leads me nicely to The Toscars. I am very honored to be hosting the show this year, following in the footsteps of
Jai Rodriguez,
Brian Dunkleman, Candis Cayne
and
Alex Newell.
The event is set for Feb 22nd at The Renberg Theatre, located on McCadden Place in Hollywood. Tickets are priced at $100 and include open bar, food, screening, awards and laughter. Celebrity presenters include
Lily Tomlin, Cynthia Bailey
from the Real Housewives Of Atlanta and others currently being added to the mix. The sponsors are
Beltran Brito Immigration Attorneys
,
Deep Eddy Vodka
and
Final Draft.
Thanks to
Cole Haan
and Tikkun Spa for prizes for the winners. For tickets to attend visit
www.toscars.eventbrite.com
or click on the Image above.
We look forward to seeing you there and celebrating our tenth year of silliness!
Cheers, have a good week and stay healthy!
Craig Young
Hope to see some of you soon and keep an eye on our Twitter
@BritsinLA
for future competitions.
All of our upcoming events can be found on our Facebook page

@BritsinLA

or visit

www.Britsin.LA

or feel free to drop us a line at

info@britsin.la
Follow us on Twitter

@BritsinLA


Like us on Instagram

@BritsinLA


Join us on Facebook

@BritsinLA
Email
us if you want to participate in our weekly feature
'
Meet A Member
'
It is a great way to introduce yourself to the group and blow your own trumpet!
Make sure to join our other groups if you are on Facebook
Brits in LA - community group
Brits in LA - Job Opportunities
Brits in LA - Housing Group
Brits in LA - Selling Pages
If you find your request is pending for some time please don't hesitate to contact
us
LA to London from only $562!*
And that is before applying the Brits in LA Discount Codes!
Need the latest Discount Codes? - email us

here


or click

here

to view if you are a member of

Brits in LA

on Facebook
Our great discounts with
Air New Zealand
have now been extended through to the end of the year. Codes available for flights to and from the UK, and we now have discount codes for Australia and New Zealand!
Email us
here
for the full list of codes
You don't have to be British you just have to like us!
If you have any questions or comments feel free to drop us a line at
britsinla@gmail.com
*at time of print - prices may vary